Soul-Level Animal Communication®
It's a way to let other people know what it meant for a client to experience a reading with me and their animal. People who are looking for an animal communicator or pet psychic are concerned about an animal they love. Their animal is trying to communicate something to them and they can't figure it out. It helps to know what kind of results others have had through one of my readings.
Soul-Level Intuitive Coaching®
Making the decision to go for any type of life coaching is a big thing - especially when considering this type of non-traditional coaching. It helps to hear what it was like for a client to work with me - and the guides. A testimonial also allows the client to share what it meant for them to go through the entire coaching process, and how this has affected their life.
Soul-Level Animal

Reading Testimonials
Winki and her cat Leelee (and Bobcat)
I was very pleased with Pamela's reading for my cat Leelee. Pamela connected with Leelee very easily as Leelee really wanted to get her truth out. She felt very comfortable with Pamela. Pamela was correct when she said Leelee doesn't like to interact with my other cats, especially Bobcat. She's a watcher and has certain spots she chooses to observe from.
Pamela was also spot on when she mentioned 3 of Leelee 's favorite places: a window sill in the front room, a certain spot on our family room carpet where she can see into the kitchen, dining room, AND the family room. I thought that was an excellent connection with Leelee; right on target. She doesn't like surprises and our cat named Bobcat, who is twice her size, often wants to play with her. She feels he is much too rough and sneaky in the way he plots what he's going to do to her next.
Leelee is very clean and loves to have her ears and cheeks rubbed, which is again spot on. She loves me very much... I am her person. She's extremely picky about how she likes her food prepped and where she wants to be fed... in her very own space. She feels very superior to Bobcat but is comfortable with our other cat Bridgette. Leelee loves to jump up on the back of the couch and lie down right behind me. Pamela was so great at getting all of this information from Leelee... it was almost like Pamela was watching the whole scenario!
Pamela is very kind and has a great love for critters no matter what they are and loves being able to help with an issue whenever she can.
Thanks for the great reading, Pamela!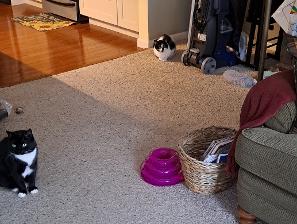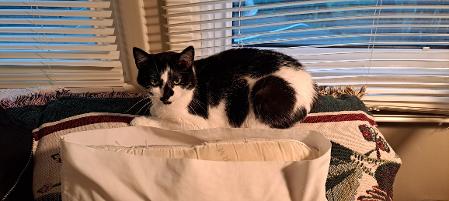 ~~~~~~~~~~~~
Anne and her dog Vinnie
As a lifelong dog owner, my experience with Pamela Revercomb was utterly eye-opening. I contacted her out of desperation when my two-year-old Bulldogs (littermates) began fighting constantly with each other. The fights were so disruptive to our happy family and becoming so scary, that one night my husband yelled at Vincent (the instigator of almost all the fights) "this has to stop or its going to be a deal breaker!"
A friend referred me to Pamela. As a regular visitor to Lilydale, I am very conversant with mediums, psychics etc., but I was not sure about a phone reading to connect with a dog. To be honest, it seemed a little wacky to me. But I was desperate, and Pamela was great about talking through the process and telling me what to expect. The first wordsout of her mouth were "I see him squinting his eyes and saying I can't help it." This was mind blowing because our nickname for him is "Squinty Eyes."
She went on to share details about him she could never had known. She correctly stated his tail was docked and even asked if he had a "throat problem" in the past, which he did when he was 6 months old! All of this convinced me she's the real McCoy but could she help me with Vincent's aggressive behavior? The short answer is that she absolutely did. It would take a book to explain in detail all of the insights she gave us as pet owners but the take away is that she was able to get us to step into Vincent's shoes and change a few things around the house to make him feel more secure in his role as Beta Dog. With hindsight, these are things we should have thought about, like giving them their own unique dog bowls instead of interchanging them. Never having raised littermates and with the stress of the fighting, it was just hard to see.
She also gave us insight into how stressed Vincent was, something easy to forget when you're dealing with a snarling Bulldog. In one of the more chilling moments of her reading, she said, "He's really scared he'll be kicked out of the family. I don't think it was you, but he says someone told him this behavior could be a deal breaker." The exact words my husband used. Which I remember vividly because I starting crying when he said it.
We've only had two sessions with Pamela and the fighting has almost completely ended and both dogs are so much more relaxed and happy. No words can ever express how grateful we are to Pamela. I am utterly convinced that her insights will improve anyone's relationship with their pet. I have a third session scheduled and plan on doing quarterly check-ins with to keep this happy balance.
Thank you, Thank you Pamela!
Note from Pamela: When Anne had a second reading for Vinnie, she told me she had noticed Vinnie now likes to sit on the deck and take in the sunset. Meet Zen Vinnie.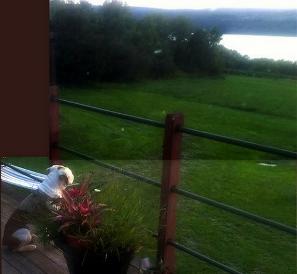 ~~~~~~~
Linda & her cat Bailey
I was trying to help my cat Bailey adapt from being a stray cat surviving outdoors to a cared-for indoor cat. I wanted to know if there was anything I could do for Bailey - to help him relax in his new environment. During the reading, Bailey indicated he would like a high platform so he could be in a supervisory position. Here are some photos with comments:
From Bailey: Look at what my mom got me finally! Love it!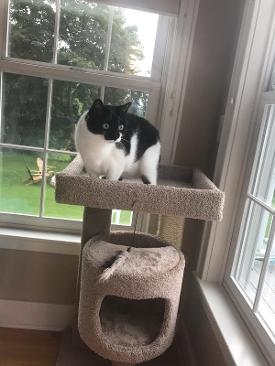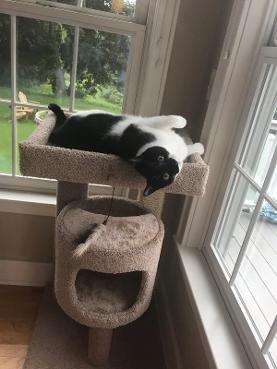 From Linda: He was crazy playing on it and running through the house like he used to with his buddy Jazzy. I'm sooo happy. Thank you!
~~~~~~~
Lolane & her cats Bennie and Sammy
Pamela connected to Bennie so easily. It was obvious to me by the communication style between Pamela and Bennie that she was indeed connecting to Bennie and not my other cat, Sammy. Pamela is easy to talk to and very friendly and I know from my heart her love for animals and that she truly enjoys helping connect pets and their owners.
I was surprised that my Senior cat, Bennie felt the 2-year-old newcomer, Sammy had taken over his territory by sleeping with me at night, and took over too much of my attention. I learned that Bennie and my bond is very strong and he wants that to be acknowledged and respected. I was also surprised that Sammy is willing to let Bennie be the King of the House, so to speak. Sammy wanted to be friends with Bennie, but Bennie had been a bit grouchy about the whole thing.
I felt an immediate change in Bennie's behavior after the reading. Bennie has been much more loving to me again and has taken his place back with me at night by sleeping in my bed.
I need to spend time with both cats. Bennie prefers I only use special nicknames that I have created for him ONLY with him. When he heard me using the same or similar terms with Sammy, he felt it diminished their meaning between him and I. This was profound to me. I had no idea Bennie was so affected by my behavior. Since then, I have tried my best to only use terms of endearment that I have created for Bennie with him. I make new terms for Sammy and I think they both respect this change and it has helped create healthy boundaries between all of us and also that they know they are each loved in their own way.
I highly recommend Pamela. She is caring, kind, and has a great bond with animals. These qualities permeate the entirety of the reading as she is dedicated to helping strengthen the bond with our animal companions. Pamela is truly gifted and continues to learn and strengthen her abilities to be of service.
~~~~~~~
Kathy & her alpaca Denmark
I liked the accuracy of the reading. It let me know from the start that it was a true connection, and the chance to feel that connection with my much-loved boy. I was surprised about how Pamela included me by looking into me a bit too and how she quickly picked up accurate things about me, and how starting out with that put me at ease that we were about to have a great experience... and we did!
I learned that Denmark is my teacher for a very important lesson I'm trying to learn - and that he's showing me every day how to learn it, wow! It makes perfect sense now that Pamela brought it to light for me.
I received extremely valuable insight that will give me confidence in a critical area that has been a nearly lifelong challenge - pretty great!
I noticed Denmark, my alpaca, and his herd mates Spencer and Grady were animated and engaged with me after our call, all looking like they had just been through something VERY interesting! We all said Thank you, Pamela!
I was so pleased I did it and with how important and valuable everything that came through was to me - there wasn't a single false note, and I related immediately to everything Pamela said. Thank you!
~~~~~~~
Thierry & his cat Luz
I reached out to Pamela for a reading with my cat, Luz. My initial shock came from her very accurate description of Luz, both physically and in terms of personality. She was absolutely on point about everything.
I adopted Luz a little over a year and a half ago when she was a 3-month-old kitten. While she was affectionate in her own way, she was not exactly cuddly and hated being picked up; she would also sometimes settle next to me on the couch or in bed only to run away the second I started to pet her.
From their connection, Pamela picked up that Luz needed space, and she was trying to teach me about trust. Trust in the sense that learning to respect her space and earning her trust would extend to other aspects of my life. That rang absolutely true.
Luz was fine being close to me as long as I acknowledge and respect that she did not necessarily want to be pet, and was content to just be with me.
The biggest revelation came AFTER our call. Within hours I noticed that Luz was more overtly affectionate, and she has been getting increasingly demonstrative in the weeks since my call with Pamela!
It's been a month now, and I've been shocked to wake up to her snuggling up to me, and she now at times will tentatively cuddle up and put her paws in my lap! Our relationship is growing and I'm now more attentive to her subtle signals and cues…
Over all I have nothing but absolute praise for Pamela's abilities and skill at reaching out to my little girl!
~~~~~~~
Karen & her dogs Hunter and Timber
My name is Karen, and I had a reading done by Pamela. When I arrived at her home, I was very skeptical. As we sat and talk just about each other I started to feel very comfortable. She explained to me all about what a reading is.
I told her I had a fire 5 years ago in which I lost my home plus my 4 dogs, two males two females, who were like my kids. She told me to ask a question and I asked if she could reach them and let me know how they are doing. During the reading she started to speak about one of my dogs. She said "He" was a dark color (this was my chocolate lab Timber) and he just wanted to say that they are all fine and that I don't have to worry. I then asked what does he mean, Pamela then told me that he wants me to know that they were all together when they died. He showed her how they got together when the smoke came and made a "puppy pile" on one of their blanket beds and died before the fire took them. Pamela also said that one dog with funny looking ears was also saying they were fine now (this dog was my rescue "Lucky" who had short floppy ears). That was my question that I was going to ask. Those two dogs (Timber and Lucky) had been hanging around Pamela for some days before the reading because they were ready to talk about what happened and let me know they were OK now.
After my reading I felt like a weight was lifted off me.
I would recommend Pamela to do readings for whoever is looking to communicate with their animals here now or that have crossed over.
~~~~~~~
Susan & her dog Zelly
I liked having my curiosity about "Soul Level Animal Communication" satisfied and enjoyed getting feedback that made a lot of sense.
Pamela showed an amazing ability to draw from her limited experience of Zelly and me to access what might be helpful in addressing the problem that I had identified.
What I learned that was most helpful was that Zelly (as I've been calling her) pays more attention to her given name "Zelda" and may be able to respond to commands better (like "Here") if I use that name. Pamela identified Zelly's feelings of confusion between what I say to do and how I gesture (with my hands/body language).
My take-away is that our relationship can get better and safer if/when we get our "signals" (e.g., voice, name, hand movements) more in sync.
I noticed after the reading that Zelly and I were more relaxed and connected. I have started to use her Zelda name more, especially for "recall" training in the field when not on leash and it does help get her attention at least.
I really appreciated Pamela's sensitivity and skill in sharing the connection she also made with my dog Peabody (who has passed on) and while surprised, it made a lot of sense. I have been experiencing his presence again since Zelly came to me in February. I have also felt his comfort like the bigger brother to Zelly that's looking out for both of us and our relationship. It was very emotional to hear that he felt sorry, too! It was so traumatic at the time and very hard for a long time to not blame myself. As he communicated to Pamela, it was "stupid" and not really like him at all to bolt like that (onto the highway) and I couldn't stop him. I know I still carry the fear of losing Zelly that way.
Apparently, through Zelly's feedback, she wants me to know that she is pretty confident and sure of herself.
I thank Pamela so much for her help. It was fun and insightful.
~~~~~~~
Sandy & her cat Ozzie
I was surprised that we were able to do the reading over the phone. I learned that time spent with cats is never wasted! I liked that I was able to ask Ozzie a question about his behavior during the reading. Now I have some new ideas to try that may alleviate his problems with the litter box. Things did seem better after the reading.
Pamela was very easy to work with. She explained what was going to happen and set me at ease.
~~~~~~~
Karen & her cats Morti and Sheldon
I liked getting insight into each cat and their relationship, and getting feedback on what would be most helpful for Morti's eating behavior. This was a relaxed process - just needed to listen.
It surprised me that they would communicate at all! Didn't have to work hard to "make it work." Most everything seemed to fit my experience with them. I was surprised about Sheldon's respect for Morti. Also, Sheldon does seem to watch Morti when he eats.
I learned Morti needs patience and gentleness and I think this will help him relax around food. I put Morti and Sheldon's food in separate places, and tried to sit with Morti while he was eating. He is still cautious to have me near him when he eats. I imagine over time he will become more comfortable. Although he didn't even finish his whole bowl. Hmmm...
I thought the reading was spot on! I've already shared Pamela's name with other people!
~~~~~~~
Lori & her cat Raina
It was cool that I was able to get inside Raina's head during the reading. I was surprised she was open to communication and that she could communicate as well as she did. There's more in Raina's brain than I ever would have guessed.
I think Raina and I are closer now. She seems to be there with me all the time while I'm at home. She comes up to my bed when I lay down and she lays on my chest and falls asleep.
I feel as if we both (Raina and I) realize just how much we care for each other.
~~~~~~~
Michelle & her dog Maddie
I was so tapped into the experience. I felt Pamela's presence in my space. I had never done a phone reading before. I am very inspired by how psychic energy travels across distances.
I learned how Maddie looks to me for confidence.
I'm impressed by Pamela's ability! She tuned in to several specifics about Maddie and I! I will recommend her to everyone I know. I'd love to do a call with Pamela regarding another animal, very soon!
~~~~~~~
Kelly & her dog Maizy
I liked the ease of it all, schedule, payment and the person. I enjoyed Pamela's energy even over the phone.
I was surprised about the accuracy. She was spot on about our new addition to the family (Maizy), and that there is a spirit cat in the house.
It confirmed for me that the ideas I had about Maizy were all correct, based on Pamela's reading.
I love having another avenue of communication, this is new to me even though I am seasoned in spiritual guidance personally.
Maizy is a 15-week-old Australian Shepard who comes from a local breeder with a heavy presence in the show industry, so it was amazing Pamela picked up on all her inherited talents and how she felt about it.
Maizy at the dog show.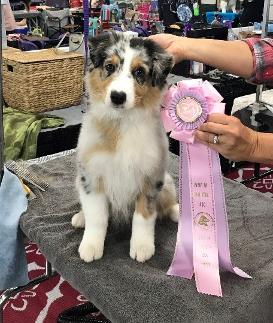 Scott & his dog Cali
I liked Pamela's insight into what Cali was experiencing and how what we were doing may be confusing to her.
I learned she is willing to take commands but is confused about what she is supposed to do at times. We don't give her clear signals. Cali loves us and wants to please us but is confused about what we want her to do sometimes. It was interesting to have Cali suggest we give her clear instructions and guidance. She appreciates when we talk kindly to her.
Since the reading, I noticed that Cali does take commands very well when I give them to her in a calm and clear manner.
Pamela is professional, knowledgeable and understanding. She gives feedback in a way that is easy to understand and palatable and has a nice delivery of the information that is insightful but not pushy.
Since the reading, I noticed that Cali does take commands very well when I give them to her in a calm and clear manner.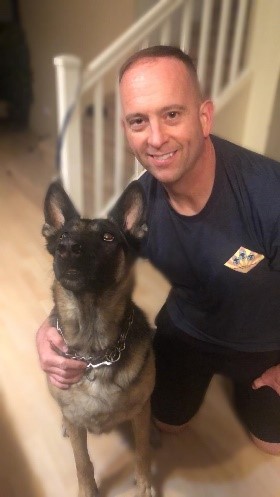 Soul-Level Intuitive Coaching® Testimonials
Judy
I like that Pamela has an easy-going manner that makes you feel comfortable enough to share experiences with her - even ones that you might normally guard - just like speaking with an old friend. I had a surprising realization that a life experience, at a very early age, became a main 'theme' throughout my life.
The coaching allowed me to see some negative beliefs I had, which fuel personal behaviors that don't always serve me well. I became aware of my feelings and reactions in certain situations that are usually uncomfortable for me. It will be easier to work with my personal relationships now that I know how to do this.
~~~~~~~~~~~~~~~~~~~~~~~~~~~~~~~~~~~~~~~~~~~~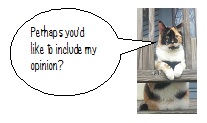 This is my cat, Fiona. If you are actually interested in hearing some of her opinions... click the button below to enter the Felinesphere.
© Copyright 2023 ~ Pamela Lipe Revercomb